Wednesday, September 23, 2020 / by Traci Pimentel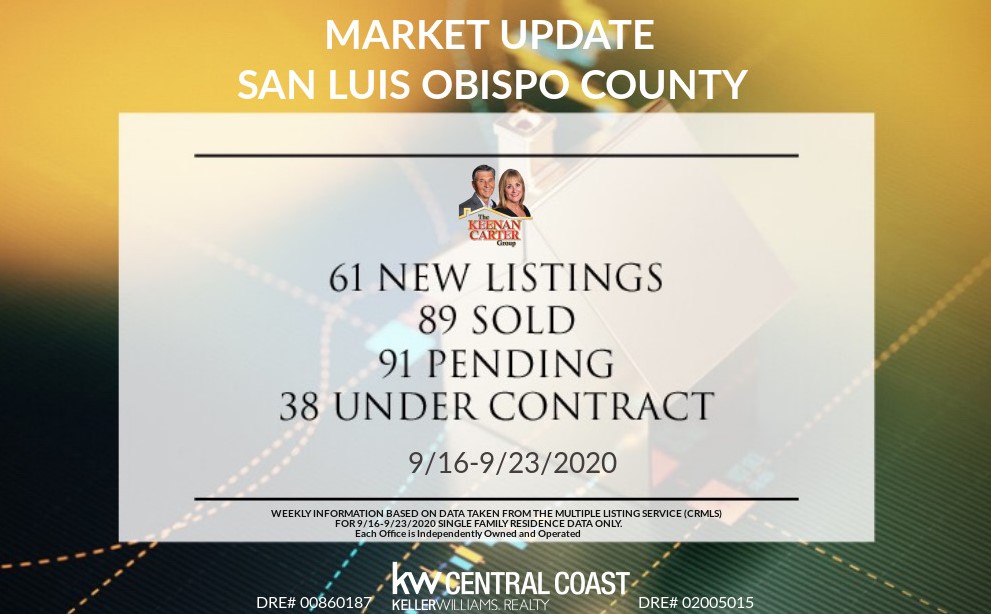 This past week we've seen a slight dip in Sold properties in comparison to the previous week, however the increase in Pending home sales balances things out. In addition, we've also seen 'Under Contract' homes tick up. New Listings hitting the market are hovering within single digit changes week over week. Inventory continues to remain incredibly low. There's no denying we are in a Seller's Market.
This Seller's Market is unique though. Buyer's are taking advantage of the all-time-low mortgage interest rates available. In today's market, it's not about the price, it's about the payment. Even though sellers are benefiting from minimal days on market, multiple offers and above asking price offers,
buyers can afford more home than ever before.
Summer home buying season continues to show resilience against the usual fall slowdown as prices continue to hit new highs and homes sell faster than ever before. Buyers are clearly scooping up homes faster than they're being put up for sale. The number of total listings (the orange line) continues to decline even as new listings
Even as home prices continue to rise, affordability is working in favor of today's homebuyers.
According to many experts, rates this low are off-setting rising home prices,
which increases buyer purchasing power – an opportunity not to be missed,
especially if your family's needs have changed.
This index compares the current status to the January 2020 market trend, as a baseline for pre-COVID market growth.
The overall index is set to 100 in this baseline period.
The higher a market's index value, the higher it's recovery and vice versa.
Ten years ago, we couldn't have imagined a mortgage rate under 3%.

Looking at the math today, making a move into a new home and locking in a significantly lower rate than you have now could
save you greatly on a monthly basis, and over the life of your home loan.
THE KEENAN CARTER GROUP DRE# 00860187
KELLER WILLIAMS REALTY CENTRAL COAST DRE# 02005015
EACH OFFICE IS INDEPENDENTLY OWNED & OPERATED.
---