Wednesday, January 27, 2021 / by Traci Pimentel

Market Update
San Luis Obispo County hasn't seen much change with New Listings hitting the market in comparison to the previous couple weeks. We did see a nearly 13% increase in properties going Pending. With more than 15% less properties sold this past week, the uptick of escrows opened, and no influx of inventory hitting the market, we're still very much in a Seller's Market.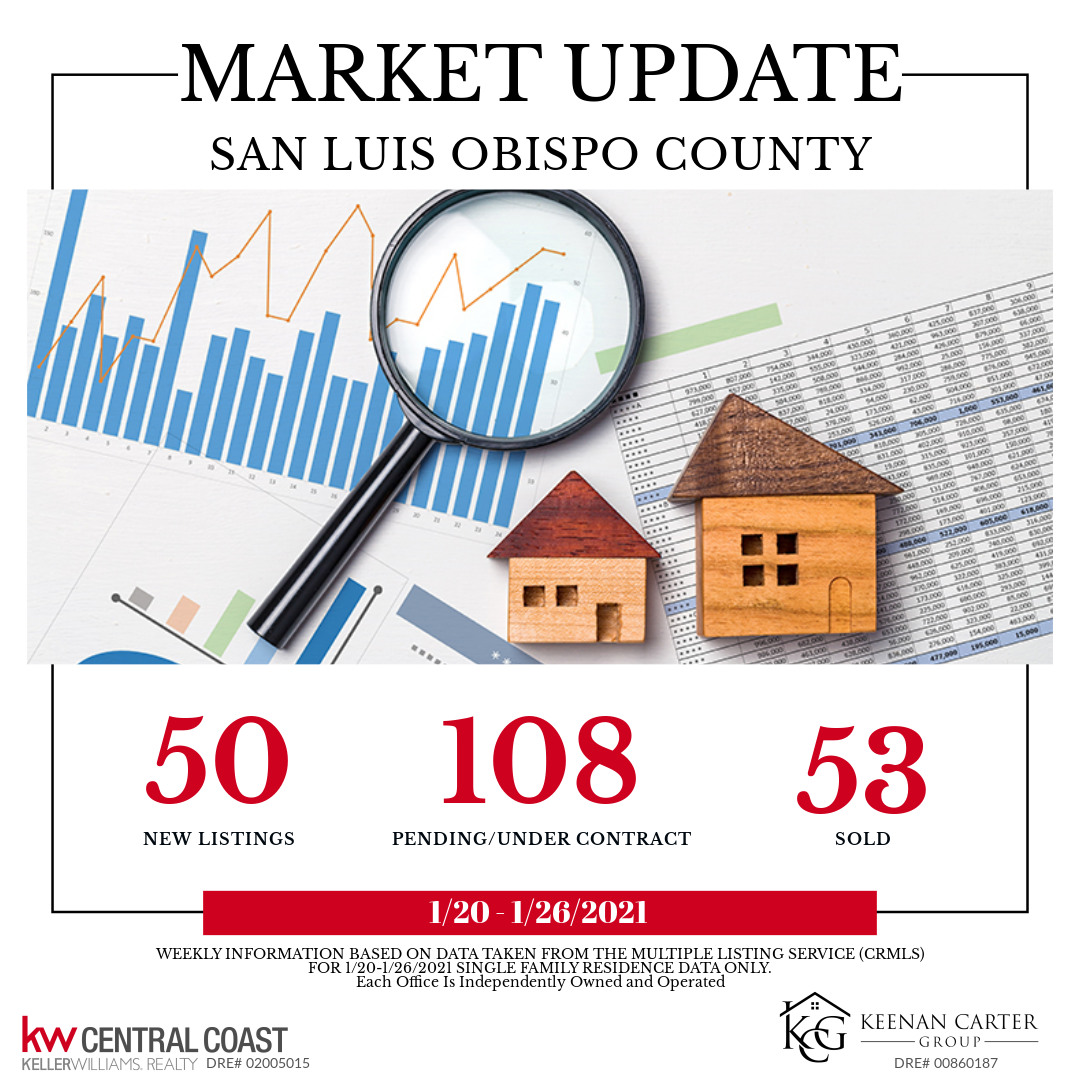 A swell of buyers are looking to enter the market, keeping demand firm amidst the continued historically low interest rates. By the 4th quarter this year, experts are forecasting that refinance volume will decrease, largely because many will have already refinanced due to these low rates.
In 2020, median listing prices grew 13.3%, according to Realtor.com. Experts forecast prices will stay on this upward track.
Even if home prices rise as forecasted, that won't dampen home sales. In fact, growth in the home sales in 2021 could be the largest since the 1980's, according to Matthew Speakman, economist at Zillow.
Low mortgage rates will continue to support strong house-buying power as more and more millennials age into homeownership, keeping demand robust. While the supply-demand imbalance will persist, existing homeowners who were hesitant to sell amidst the worst of the pandemic may be encouraged to bring their homes to market, relieving some of the supply shortage. Swelling demand and the potential for greater supply means housing market potential in 2021 is likely to remain strong and build off a historic 2020


" Looking ahead in 2021, the economy will be kept in recovery mode thanks to the recent stimulus bill and additional construction of affordable homes in the coming year." - Danielle Hale, Chief Economist at Realtor.com



KEY: SFH = Single Family Home FRM = Fixed Rate Mortgage
SFR = Single Family Residential
All data comes from the CRMLS, InfoSparks, Michael Lewis Marketing Suite, Altos R.E., Keeping Current Matters, Corelogic, Showing Time, Realtor.com, Freddie Mac, Fannie Mae, Mortgagecalculator.com, Wall Street Journal, First American Title Co., NAR (National Association of Realtors) & CAR (California Association of Realtors).
Current as of 1/26/2020.



Each Office is Independently Owned and Operated.
---